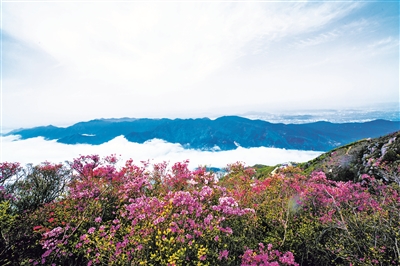 Flower sea on the mountain. /山上的花海。[Photo by Tang Yan]唐嚴攝
  By Gou Wen
  On the Jin'e Mountain, Ningbo, more than 130,000 square meters of wild azaleas are entering their peak blossoming. In crimson, light red, rose red, purple, white, and yellow, those picturesque flowers join hands in creating a long corridor of azalea.
  在金峨山上,兩三百畝地的野生杜鵑花進入盛花期。深紅、淡紅、玫瑰紅、紫色、白色和黃色等多種色彩的杜鵑花,構成了一座五彩繽紛的杜鵑花海長廊。
  The azalea blossoming at the Jin'e is a popular attraction among tourists. Together with other scenic spots, such as ancient houses in nearby water towns and the Bijia Mountain, as well as local farmhouses and leisure farms, they are turned into a main tourism hub that many tourists come to visit every year.
  以杜鵑花為媒,附近的水鄉古宅、筆架山等景點與當地農家樂、休閑農場串點成鏈,每年都吸引無數游客前來打卡。
  The Jin'e Mountain boasts two name cards: azalea and camellia. Covered with green plants, the mountain looks tall and straight. Moreover, there are many rocks of different shapes. In 2018, Jin'e Mountain was designated as one of Zhejiang's provincial forest parks. Besides azalea and camellia, it is equally rich in animal and plant resources. For example, the ancient trees, the famous pine on the south slope, the spectacular sunrise, and other natural landscapes.
  金峨山以杜鵑花海、茶花苗木為主要特色,山勢挺拔,峰巒疊翠,多奇巖怪石。2018年,金峨山入選浙江省級森林公園。森林公園里動植物資源較為豐富,除了杜鵑花,還有古樹群、南坡松濤、峨嶺霞光等自然景觀。